SWF Co-Organizes an International Meeting "Food Security, Earth Observations and Agricultural Monitoring"
Monday, December 2, 2013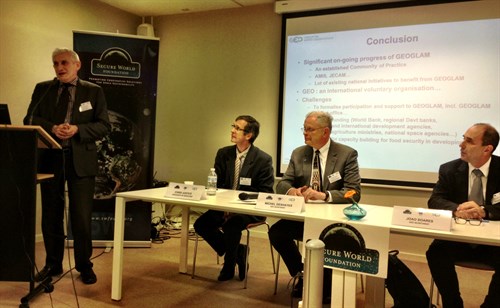 Secure World Foundation (SWF), European Commission (EC) and the Group on Earth Observations (GEO) Secretariat partnered in November to organize an international meeting titled "Food Security, Earth Observations and Agricultural Monitoring". The purpose of this meeting was to assess the situation regarding global observational facilities, models, and derived services needed to meet the demand in developed and developing countries regarding agricultural production. The workshop reported on the progress made in implementing Global Observation Systems for services in the domain of monitoring aspects of agricultural production. Current, planned and potential activities were reviewed, as well as progress made for obtaining the necessary resources to implement those activities. The workshop contributed to the implementation plan necessary to put in place the GEOGLAM system, as well as identified the necessary resources to sustain it with attention to national capacity development and food security.
SWF Executive Director Michael Simpson opened and closed the conference as well moderated a panel titled: Overview of National agricultural monitoring activities. Project Manager Natassa Antoniou also attended the event.
To see the agenda, speaker bios, presentations, and for more info please click here.
Last updated on January 2, 2014