Natassa Antoniou Participates in the UN SPIDER Technical Advisory Mission to Ghana
Tuesday, December 10, 2013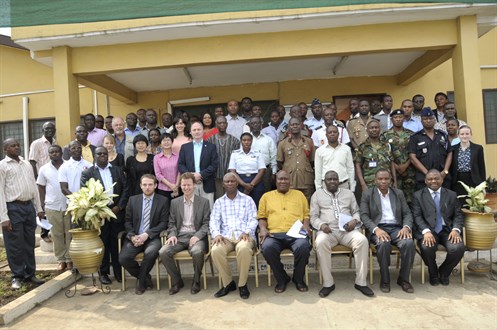 From 25 to 29 November 2013, UN-SPIDER conducted a Technical Advisory Mission (TAM) to Ghana. Upon the invitation of the Government of Ghana/National Disaster Management Organisation (NADMO) a diverse mission team of 10 experts from the disaster management and space technology community, UN organizations, academia as well as meteorology experts visited Ghana. Project Manager Natassa Antoniou participated in the TAM and also gave a presentation on "SWF Activities -Improving the Use of Space Systems for Human Benefits/Disasters".
TAMs are part of UN-SPIDER's Technical Advisory Support, one of the core activities of the Programme. TAM experts met during the mission with key disaster management authorities in the Government and UN agencies to discuss the topic in depth, made recommendations and developed guidelines to improve the use of space-based information in disaster-risk management and emergency response.
Various important fields were identified in which the improvement of the use of space-based information for disaster management would strengthen NADMO and the disaster risk reduction efforts made by various institutions and partners. The detailed recommendations and assessments will be compiled into a mission report and made available to NADMO.
UPDATE: On July 10, 2014 the conference procedures were released by UN-SPIDER. You can read them here.
For more information visit the UN SPIDER portal.
Last updated on July 11, 2014