SWF Partners in the United Nations/Belarus Workshop on Space Technology Applications for Socio-Economic Benefits
Friday, November 22, 2013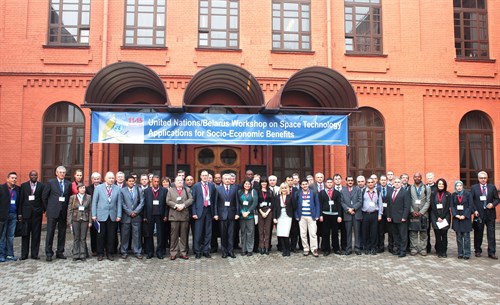 On November 11-15 SWF partnered with the UN Office for Outer Space Affairs and the Belarusian State University to organize a Workshop on Space technology Applications for Socio-Economic Benefits in Minsk, Belarus. The overall objective of the workshop was to increase awareness among policy makers and planners on the socio-economic benefits of utilizing space technology. The workshop contributed to international cooperation by providing opportunities to exchange in-depth information on Space Technology Applications for Socio-Economic Benefits.
Specific objectives for this workshop were to:
share information on research and applications studies that have demonstrated the use of space technology for societal benefit;
address principles and mechanisms for enhancing national, regional, and international cooperation in space technology development and applications;
demonstrate the benefits of various space technology applications for priorities hihghlighted by the RIO+20 United Nations Conference on Sustainable Development: energy, cities, food, water, oceans, and disasters (http://www.uncsd2012.org/rio20/7issues.html); and
Promote integration of space solutions into national development agenda, including building institutional and governance frameworks.
 The workshop lead to:
the development of collaborative projects ideas that while addressing specific societal issues confronting individual member states or regions, are applicable globally;
the identification of research activities in the context of decision-making that would benefit from space solutions; and
the development of a strategy for building institutional capacity to integrate space solutions into the national development agenda.
 Brussels Office Director Agnieszka Lukaszczyk gave opening and closing remarks during the workshop and chaired a session on International and Regional Cooperation. Project Manager Natassa Antoniou presented on Social Media in Disasters and the Role of Space Technologies.  For more information click here.
Last updated on January 2, 2014