SWF Co-Sponsors the European Satellite Day 2013
Monday, September 9, 2013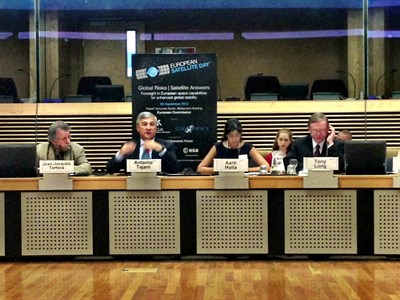 In an environment where science and technology are constantly evolving, the capacity to anticipate is key, especially for the space sector that drives innovation while dealing with long lead times and development cycles for satellites. European Satellite Day 2013 addressed today's risks and reflected on how state of the art satellite solutions play a part in mitigating them. The event hosted by ESOA and EUROSPACE in cooperation with the World Economic Forum, EUMETSAT and ESA and sponsored by Secure World Foundation, ASTRIUM and NEREUS. SWF Executive Director Michael Simpson, Brussels Office Director Agnieszka Lukaszczyk and Project Manager Natassa Antoniou attended the event.
For information on European Satellite Day 2013, please visit here.

To read the press release on the event click here. 
Last updated on December 5, 2017