SWF Successfully Co-Organizes the 2013 UNIDIR Space Conference
Wednesday, April 17, 2013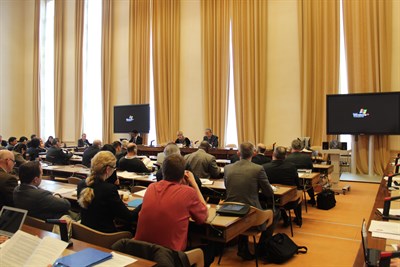 This year's conference organized by The United Nations Institute for Disarmament Research in collaboration with Chatham House, Secure World Foundation and The Simons Foundation and with support from the Governments of the People's Republic of China, India, Japan, the Russian Federation and the United States of America  focused on threats that might give rise to conflict within the outer space domain, how such conflict might spread to other domains and how such threats might be mitigated through national and multilateral initiatives. The conference aimed at building greater mutual understanding among stakeholders about the importance of protecting the space domain. In particular, aimed to bring into the discussions end-users of space-based services who have been less active participants in ongoing inter-governmental efforts, including from the commercial and humanitarian sectors, in order to further emphasis the importance of ensuring security and sustainability in outer space.
Emphasis was placed on elucidating those activities which serve to destabilise outer space and how space actors can contribute to transparency, predictability and stability in the domain. The conference was designed to provide an interactive forum where stakeholders will be able to explore how space security can be ensured via action at the national, regional and multilateral levels.
SWF was actively engaged in the organization of the conference and participation. Brussels Office Director Agnieszka Lukaszczyk gave a presentation titled "Contributing to the dialogue: what do NGOs offer the ongoing multilateral initiatives?", while Executive Director Michael Simpson chaired a panel titled Lessons from private actors: analysis of innovations by the commercial space sector on new methodologies for contributing to space security initiatives and contributed to a special presentation on the role of NGO's in the discussions on space security.
For more information, speaker bios, final agenda, audio and written presentations please click here.
Last updated on December 5, 2017