SWF Holds Panel Discussion on Poland's Accession to the European Space Agency
Thursday, January 31, 2013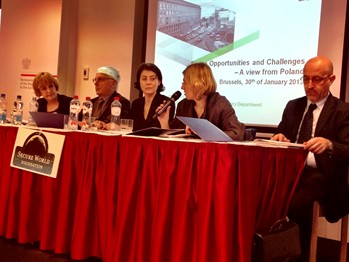 The Permanent Representation of Poland to the European Union together with the Secure World Foundation and in cooperation with the office of Krzysztof Lisek MEP organised an informal panel discussion entitled "Space Opportunities and Challenges – A View from Poland, the Newest ESA Member State."

The purpose of this panel was to introduce Poland as the new actor to the European space arena and review its capacities, aspirations as well as challenges it may face as the newest ESA member. It also aimed to determine some strategic orientations Poland might have for its space program.

To see the presentations, speaker bios and pictures click here.
Last updated on December 26, 2013