Accessible Moon Salon: International Coordination for Lunar Exploration
When: Thursday, April 15, 2021
Time: 2:30pm ET
Where: Virtual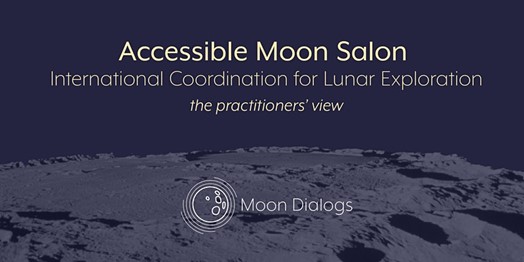 This panel featured a roundtable discussion amongst experts in the space industry who are experienced advocates in multilateral fora for issues such as sustainability, standards development, and heritage site designation. Our panelists will drew upon their experiences, offering practical advice and guidance as we look ahead to ensure lunar exploration is truly the province of all humankind. This salon was part of the Moon Dialogs Accessible Moon salon series.
Accessible Moon explored strategies to assure lunar activities draw upon the diversity of humanity to build a human presence on the Moon and beyond. This theme area will focus on international collaboration strategies, specifically to bring new voices across academic fields, industry, and governments into lunar activities. This action team has a goal of coordinating multi stakeholder activity with a shared respect for the space commons, while promoting the peaceful use of outer space. Salons will include discussion of strategies to build broader participation within the US space industrial base as well as learning from successful international cooperations and public-private partnerships towards lunar governance structures. 
Panelists:
Dr. Peter Martinez is the Executive Director of the Secure World Foundation. He has extensive experience in multilateral space diplomacy, space policy formulation and space regulation. He also has extensive experience in capacity building in space science and technology and in workforce development.
Prior to joining SWF, from 2011 - 2018 he chaired the United Nations Committee on the Peaceful Uses of Outer Space (UN COPUOS) Working Group on the Long-Term Sustainability of Outer Space Activities that negotiated a set of international consensus guidelines to promote the safety and sustainability of space operations. In 2012 and 2013 he was South Africa's representative on the United Nations Group of Government Experts on transparency and confidence-building measures for space activities. From 2010 – 2015 he was the Chairman of the South African Council for Space Affairs, the national regulatory authority for space activities in South Africa. From 2014 - 2018 he was Professor of Space Studies at the University of Cape Town. Before this he acquired fifteen years of executive level management experience gained in the research and development environment of the South African Astronomical Observatory, a National Facility under the South African National Research Foundation.
He is a member of the International Academy of Astronautics, the International Institute of Space Law, a Fellow of the Royal Astronomical Society and an Honorary Professor at the University of Cape Town. He has authored or co-authored over 200 publications on topics in space policy, space sustainability, astronomy, space research, space law and space policy.
Dr. Marlène M. Losier is a legal expert in international law. She advises private and public clients regarding the international and national legal policy implications of transnational disputes over rare objects found on land, underwater and beyond Earth, particularly as they involve the succession of States. She advises also on creating new domestic and international laws with respect to cultural properties. Dr. Losier is an expert in complex matters of sovereign immunity and jurisdiction, where they conflict, when they are evoked in areas beyond national jurisdiction and specifically in respect to their title and related proprietary rights under international law. Her academic background is in government and social anthropology and her legal basis is in international litigation, alternative disputes resolution and contractual matters. She is Principal of Losier & González, PLLC based in Washington, D.C.
Dr. Minoo Rathnasabapathy is a Research Engineer within the Space Enabled Research Group at the MIT Media Lab. In this role, she helps coordinate projects in collaboration with international development organizations, national governments and entrepreneurial companies to apply space technology in support of the Sustainable Development Goals. She also leads efforts in establishing the Space Sustainability Rating (SSR) in collaboration with the World Economic Forum and the European Space Agency. Previously, Dr. Rathnasabapathy served as the Executive Director of the Space Generation Advisory Council (SGAC), a global non-governmental organization which acts in support of the United Nations Programme on Space Applications, based in Vienna, Austria. Dr. Rathnasabapathy was responsible for leading the operations, business development, strategy, and policy output for SGAC, a network that represents over 10,000 university students and young professionals in 110+ countries. Dr. Rathnasabapathy earned her Ph.D in Aerospace Engineering from RMIT University, researching the impact dynamics of novel materials used in aerospace structures. Dr. Rathnasabapathy serves as a Vice President on the Bureau of the International Astronautical Federation (IAF), is a member of the World Economic Forum Global Future Council on Space, and advisor to the Swarovski/Slow Factory OnexOne Initiative.
Moderators:
Mehak Sarang, MIT Space Exploration Initiative
Michelle Hanlon, For All Moonkind
Last updated on May 4, 2021