Serving Society with Space Data - SDG 8: Decent Work and Economic Growth
When: Wednesday, August 19, 2020
Time: 10:00 AM - 11:30 AM
Where: Virtual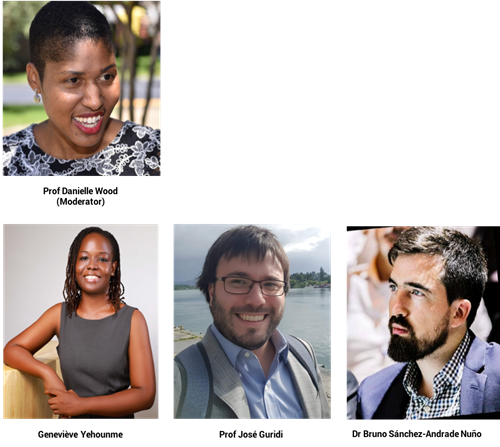 This webinar highlighted projects that have incorporated Earth observation data to promote job opportunities and decent working conditions as well as financial services to manage incomes, accumulate assets, and make productive investments. 
Click here to view the video.
Objectives 
Sharing of real-world examples of how space technologies are being used for jobs and economics

Including how EO can provide decision-makers with data to make better policy decisions to increase improve livelihoods

Highlight potential technical and other barriers that limit the operational use of Earth observations by decision-makers, project managers, and development partners
Share pathways of collaboration and coordination/lessons learned 
Speakers 
Geneviève Yehounme is the Sales Manager at Green Keeper Africa where she leads the market development strategies of the company. Her responsibilities include collaborating with Health, Safety and Environment officers in various industrial companies across Africa to use GKA's absorbent as an environmentally friendly solution for oil spill control. Her professional and academic concentration has focused on business' role in environmental stewardship and sustainable economic growth. Geneviève completed a Masters in International Environmental Policy at the Middlebury Institute of International Studies at Monterey MIIS, CA with a Fulbright scholarship. During her studies at MIIS, she focused on Business, Sustainability and Development with an emphasis on sustainable entrepreneurship.
Prof José Guridi is an Engineer with a M.Sc. in Industrial and Systems Engineering from Pontificia Universidad Católica de Chile, where he is also an adjunct professor. He is currently working in the cabinet of the Chilean Minister of Science, Technology, Knowledge and Innovation, at the Future Team. Among other things, José is leading the creation of the Chilean Artificial Intelligence Policy. Previously he worked as an advisor at the Ministry of Economy, Development and Tourism in the Economy of the Future unit, where he contributed to the creation of the Data Observatory. 
Dr Bruno Sánchez-Andrade Nuño, is the Principal Scientist at Microsoft AI for Earth. With professional experience in research, the private sector, public sector, and NGOs. Bruno is committed to bringing the value of "Impact Science" by promoting and practicing the skill-based value of scientists, versus the knowledge-based value. In the Public Sector, Bruno joined Microsoft as a Principal Scientist at "AI for Earth" in 2020. He has also worked with the Innovations Lab (and the President's Office) of the World Bank, working on Big Data for SDGs, and Digital Transformation across Bank operations globally. In the Private Sector, he was as Chief Scientist at Mapbox, and later VP for Social Impact at Satellogic. In the non-profit sector, he was director of Science and Technology at the NGO Gain.org working on climate change adaptation. In Academia, Bruno obtained a Ph.D. Magna cum Laude in astrophysics from the Max Planck Institute in Germany, and postdoc in satellite and rocket science with NRL/JAXA/NASA. Bruno has published peer-reviewed scientific journals, as well as featured on NASA high-profile Picture of the Day and other science outreach mediums. Bruno was a Mirzayan Science Policy Fellow of the US National Academies of Sciences. Bruno was awarded Young Global Leader of the World Economic Forum, and it is a member of their Expert's Network. Bruno is native from Asturias (Spain).
Prof Danielle Wood (Moderator) leads the Space Enabled research group which seeks to advance justice in Earth's complex systems using designs enabled by space. Prof. Wood is a scholar of societal development with a background that includes satellite design, earth science applications, systems engineering, and technology policy. In her research, Prof. Wood applies these skills to design innovative systems that harness space technology to address development challenges around the world. Prior to serving as faculty at MIT, Professor Wood held positions at NASA Headquarters, NASA Goddard Space Flight Center, Aerospace Corporation, Johns Hopkins University, and the UN Office of Outer Space Affairs. 
Co-hosted by the Space Enabled research group and the Secure World Foundation, this virtual series aims to engage a multi-sector audience in discussions on how space technologies and geospatial applications contribute to better outcomes in critical fields around the world, such as energy, food security, poverty, and governance. Held twice a month, the events will bring together stakeholders working in companies, nonprofits, academia, and government to highlight initiatives taken to progress toward the 17 Sustainable Development Goals (SDGs) using a truly transformative multi-stakeholder approach. The series will highlight real-world case studies as well as opportunities and challenges for expanding the use of satellite data in efforts to achieve the SDGs. 
Please contact Director of Space Application Programs Krystal Azelton with any inquiries regarding this event. 
Last updated on September 4, 2020