Bermuda Sustainability Workshop
When: Wednesday, January 22, 2020
to Thursday, January 23, 2020
Where: Hamilton, Bermuda

On January 22 and 23, 2020 the Government of Bermuda Department of Energy and Secure World Foundation hosted the Bermuda Space Sustainability Workshop 2020. The one and a half-day workshop, held at the Bermuda Underwater Exploration Institute, brought together over 30 experts from government, industry, research organizations and academia to discuss the importance of space sustainability for Bermuda and the world. Bermuda's Minister of Home Affairs Walter H. Roban opened the workshop with a presentation on Bermuda's historical ties to the space industry and the Government's current perspective on space sustainability, which was followed by a series of presentations by the experts in attendance on trends in the space domain, including changes to the space environment, space governance, globalization and commercialization, space security and stability, and spectrum and frequency coordination. Following that, the participants held multiple panel discussions on policy aspects of space sustainability, key trends that are driving the increasingly commercial nature of the space domain, and how operators are acting to encourage responsible operations principles and best practices in support of business and space sustainability objectives.  The second day focused on interactive discussion of how Bermuda could integrate space sustainability into the development of the space space sector and the national space strategy.  A key theme that ran through workshop was discussion of how, as an island nation that has sustainability in its DNA, Bermuda is well positioned integrate the concept of space sustainability into its broader sustainability efforts and the larger sustainability narrative.
Click here to view the full agenda. 
Media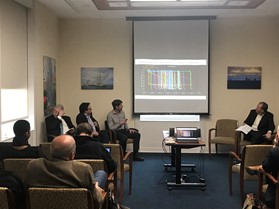 Please contact Krystal Wilson with questions regarding this event. 
Last updated on January 24, 2020