British Innovation and Sustainability in Space
When: Thursday, April 11, 2019
Time: 12:15 - 1:45 pm
Where: Broadmoor Hotel Main Ballroom, Colorado Springs, Colorado
The United Kingdom's space sector is continuing to expand and evolve.  Its commercial sector includes companies revolutionizing the smallsat industry, creating new types of launch vehicles, and changing how the UK approaches space – and the UK Space Agency has been working closely with industry, universities, and government partners to make this commercial space growth a reality.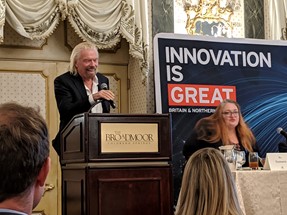 The Secure World Foundation and the British Embassy, with the Space Foundation, sponsored a lunch salon titled "British Innovation and Sustainability in Space," on Thursday, April 11, 2019, at the 35th Space Symposium in Colorado Springs, CO. Speakers from government, industry, and academia --including special guest Sir Richard Branson-- showcased British innovation in space and discussed how this growth can be done in a sustainable manner.
Speakers 
Opening remarks:  Erin Kuhn, British Consulate, Denver, CO
Moderator: Victoria Samson, Washington Office Director, Secure World Foundation
Alice Bunn, UK Space Agency
Alexandra Stickings, Royal United Services Institute
Sir Martin Sweeting, Surrey Satellite Technology Ltd
Mark Thomas, Reaction Engines
For more information, please contact Washington Office Director Victoria Samson.
Last updated on April 18, 2019