From Response to Resilience: Space and Disaster Risk Management
When: Wednesday, August 5, 2015
Where: Hotel Boulderado/Boulder, Colorado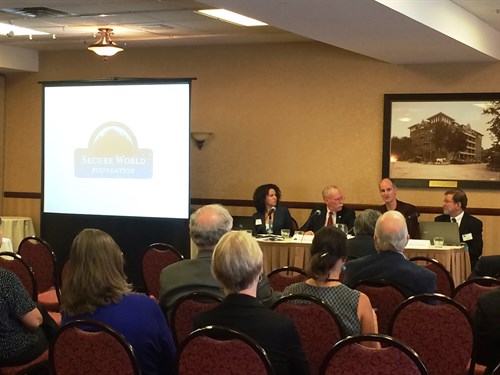 On Wednesday, August 5, 2015, from 3:30PM - 5:00PM the Secure World Foundation hosted a panel on disaster risk management at the Hotel Boulderado in Boulder, Colorado. "From Response to Resilience: Space and Disaster Risk Management," was the second SWF event on this theme as part of an ongoing effort to promote communication and exchange of best practices across the full spectrum of disaster management activities and the role of space-based assets in this effort.
Earth observations and other information derived from space, air and in-situ platforms have played a critical role in providing information to policy makers and first responders during times of natural disasters.  Satellite imagery, communications, and position, navigation, and timing capabilities are playing an increasingly important role in government and industry efforts to understand and potentially mitigate risks from weather and other extreme events.
Speakers
Luke Barrington, Director, New Projects, Digital Globe

Sergio Camacho-Lara, Secretary General, 

Regional Centre for Space Science and Technology Education for Latin America and the Caribbean (CRECTEALC)

Mark Mulholland, Director, Policies, Procedures, and Systems Assurance in the Office of System Architecture and Advanced Planning (OSAAP), NOAA Satellite and Information Service (NESDIS), National Oceanic and Atmospheric Administration (NOAA)



The discussion was moderated by SWF Project Manager Laura Delgado López.
Event Materials
For speaker bios, please click here.
Sergio Camacho-Lara Presentation
Last updated on August 12, 2015