Media: Request an Interview
Send an Email
Tiffany Chow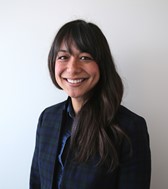 Tiffany Chow is Director of Strategic Partnerships for Secure World Foundation (SWF), where she builds partnerships that leverage shared and external resources to advance SWF's mission. 
Prior to rejoining Secure World Foundation, Tiffany was Director of New Partnerships for Roadtrip Nation, a media platform and non-profit that empowers people to define their own roads in life through documentary television series and films and digital resources. At Roadtrip Nation, Tiffany architected strategic partnerships, business development, and fundraising opportunities; managing relationships with professionals at all levels within Fortune 500, education and philanthropic organizations. Before Roadtrip Nation, she worked with SWF as Project Manager in the DC office where she oversaw and supported projects dealing with international security and legislative issue areas and at the Center for American Politics and Public Policy at UCLA where she assisted the Director and Administrative Director with research projects and program logistics. 
Tiffany also commissions articles for ROOM, The Space Journal. She previously served as the U.S. National Point of Contact for the Space Generation Advisory Council (SGAC) and was actively involved with SGAC's Space Safety and Sustainability Working Group. She is an alumna of the International Space University's (ISU) 2012 Southern Hemisphere Summer Space Program held in Adelaide, Australia.
Education
Tiffany received her Master of Arts degree in International Relations from Johns Hopkins University's School of Advanced International Studies (SAIS) in Washington, DC. At SAIS, she specialized in General International Relations and International Economics and was involved in SAIS Leads, the school's leadership development program. She received her Bachelor of Arts degree from the University of California, Los Angeles (UCLA), where she double majored in European Studies and Political Science, with an emphasis in International Relations. She has also studied at the University of Cambridge in England and the Scuola Leonardo da Vinci in Italy.
Last updated on October 1, 2018