Media: Request an Interview
Jessica Santascoy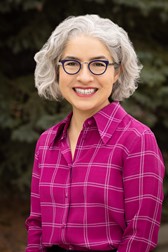 Jessica Santascoy is the Director of Strategic Partnerships for the Secure World Foundation (SWF). With a proven track record of successful partnerships and collaborations, Ms. Santascoy brings a wealth of experience and expertise to SWF.
As the Director of Strategic Partnerships at Secure World Foundation, Ms. Santascoy is responsible for cultivating relationships with organizations and individuals who share SWF's mission of promoting the sustainable and peaceful use of space. She works closely with internal teams to develop and execute partnership strategies, and to establish and maintain relationships with key stakeholders.
Prior to joining SWF, Ms. Santascoy served as the Project Manager of NASA@ My Library and the National Science Foundation-funded STEAM Equity at the Space Science Institute in Boulder, Colorado. She identified and cultivated new partnerships while supporting relationships with key stakeholders, such as NASA's Science Activation Program, the Lunar and Planetary Institute, and the American Library Association. Ms. Santascoy was a consultant to the Exploratorium, identifying partners to increase engagement for their Solar Eclipse App. At the Astronomical Society of the Pacific in San Francisco, she cultivated new partnerships and increased program reach. Her team earned the Group Achievement Award to the Exoplanet Exploration Public Engagement Team for exceptional performance in the creation of an innovative national public engagement program that dramatically increased NASA's visibility in exoplanet exploration.
Jessica is passionate about diversity, equity, inclusion, and accessibility (DEIA) and actively works to promote DEIA in her daily life and at work. She is thrilled to be at SWF because she believes that secure, sustainable, and peaceful uses of space benefit Earth and her people.
In her free time, Ms. Santascoy enjoys hiking, swimming and hosting happy hours with her partner. She is involved in the Boulder Library Foundation, a member of the Longmont Amateur Astronomers, an ambassador for Explore Scientific, and active in the Rocky Mountain chapter of The Society of Children's Book Writers and Illustrators.
Education
Ms. Santascoy holds a BA in Psychology from the University of Texas at El Paso, an MA in Media Studies from the New School in New York City, and a Graduate Certificate in IT Project Management from the University of Denver.
Last updated on March 23, 2023