Maj. Gen Jay Santee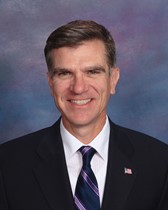 Major General Jay G. Santee Jay G. Santee is the vice president of Strategic Space Operations at Aerospace Corporation. General Santee oversees the company's support of the U.S. Air Force's Space War Fighting Construct (SWC), which combines transformational and warfighting-focused command initiatives to maintain space superiority in the 21st century. General Santee also supports the Space Security and Defense Program and the U.S. Strategic Command.
Previously, General Santee was the Director of Resilient, Affordable Space (RAS). As MITRE's outcome leader for RAS, Jay directed their contributions to Air Force Space Command's fielding of a resilient, affordable space force before 2025. In this capacity, Jay integrated and synchronized MITRE's Defense space projects pertinent to RAS. Prior to this, he spent 33 years in the US Air Force, retiring as a major general in August of 2014. In General Santee's last assignment, he was the Deputy Director of the Defense Threat Reduction Agency. In this capacity he played a key leadership role in the removal and destruction of declared Syrian chemical weapons materials aboard the M/V CAPE RAY.
General Santee served as the acting Deputy Assistant Secretary of Defense for Space Policy, the vice commander of Fourteenth Air Force, the Director of the Space Operations Center (now the Joint Space Operations Center), and commander of the 21 st Space Wing. He earlier served as an F-111F weapon systems officer at RAF Lakenheath, UK and an EF-111A electronic warfare officer during Operations Desert Shield and Storm. He was also action officer on the staff of the Secretary of the Air Force for Acquisition and the Department of the Navy Research, Development, and Acquisition in the Pentagon, as well as a staff director the Director of Operations staff at United States Space Command. General Santee entered the Air Force as a distinguished graduate of the U.S. Air Force Academy. He has an MBA from Golden Gate University and is a distinguished graduate of the National War College.
Last updated on February 8, 2019