Imaging Notes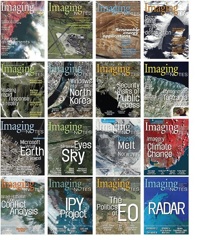 Imaging Notes is the premier publication for commercial, government and academic remote sensing professionals around the world. It provides objective exclusive in-depth reporting that demonstrates how remote sensing technologies and spatial information illuminate the urgent interrelated issues of the environment, energy and security. Imaging Notes has a partnership with Secure World Foundation and is affiliated with the Alliance for Earth Observations, a program of the Institute for Global Environmental Strategies.
When it was launched in the 1970's for NASA and Landsat users, Imaging Notes was the first publication to specifically address applications of satellite imagery. EO Sat Notes was re-named Imaging Notes in 1997, and was published by Space Imaging (now GeoEye) until 2004. Beginning with the Summer 2005 issue, Imaging Notes has been owned by Blueline Publishing. The magazine is expanding the scope of articles from primarily satellite data sources to include all areas of remote sensing around the world, from aerial to satellite and LiDAR to RADAR.
As an independently-owned magazine, Imaging Notes exemplifies that ever-important "freedom of the press" - freedom to report on the industry without allegiances to any particular company, advertiser, or partner. The benefit to this "old school" way of publishing is that readers trust the magazine; they don't think that every article is a commercial. They trust the stories, and this translates into trust of the advertising.
Imaging Notes welcomes contributions for feature articles. We publish articles on the remote sensing and geospatial industries, including applications, technology and business. Please see the Contributor's Guidelines and email proposals to editor@imagingnotes.com. Blueline Publishing has also launched in Summer 2009 a new publication for location intelligence in business: LBx Journal, Location in the Language of Business.
Staff
Myrna James Yoo, Publisher and Managing Editor
Bette Milleson, Copy Editor
Jürgen Mantzke, Creative Director
Editorial Advisory Board
Mark E. Brender, Foundation Director, GeoEye
Anita Burke, Founder, The Catalyst Institute
Nancy Colleton, President, Institute for Global Environmental Strategies
Dr. William B. Gail, Director of Strategic 
Development within Virtual Earth at Microsoft Corporation
Anne Hale Miglarese, Booz Allen Hamilton
Kevin Pomfret, Esq., LeClair Ryan