SWF Releases Updated Booklet on Space Sustainability - A Practical Guide
Friday, February 15, 2013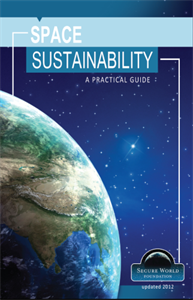 SWF is pleased to announce the publication of an updated booklet on Space Sustainability - A Practical Guide. This resource provides an introduction connecting our current use and reliance on space, the issues that jeopardize that use, and the historic and ongoing activities underway to help ensure that all humanity can continue to use outer space for peaceful purposes and socioeconomic benefit now and in the long-term. This edition of the booklet contains new sections on radio frequency communications and current international space sustainability initiatives.
To view or download a copy of Space Sustainability - A Practical Guide, click here.
A limited number of printed copies are also available at events attended and hosted by SWF throughout the year.
Last updated on January 27, 2014