Experts Give Policy Perspectives 50 Years After the JFK's 1962 Moons Speech
Friday, September 21, 2012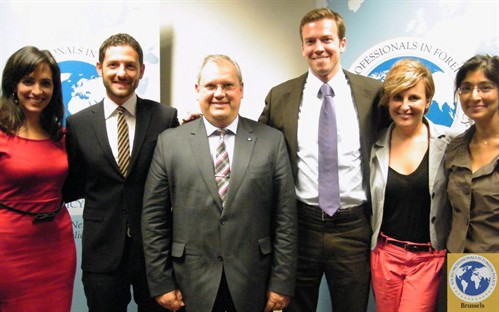 Secure World Foundation and the Young Professionals in Foreign Policy organized on September 20th a panel discussion titled "Race to the Moon and Back: Policy Perspectives 50 years after the JFK's 1962 Moons Speech". The event focused on the analysis of the last 50 years of the Space Age as well as it highlighted current developments, challenges, and the future plans in the space sector.

Speakers included:
Andrew PELKEY, Political-Military Officer, United States Mission to the European Union
Dumitru PRUNARIU, Cosmonaut, President, Association of Space Explorers
Aarti HOLLA-MAINI, Secretary General, European Satellite Operators Association
Agnieszka LUKASZCZYK, Brussels Office Director, Secure World Foundation
Moderator: Leonardo COLUCCI, Programming Director, Young Professionals in Foreign Policy
To find out more about the event, view speaker bios, presentations and pictures click here.