Natassa Antoniou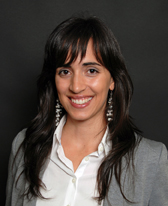 Natassa Antoniou is a Project Manager for Secure World Foundation. She is based in Brussels where she supports and oversees projects dealing with space policy and human and environmental security issues. She has been active in the European and international policy environment for the past six years and brings to SWF a diverse range of experience, both academic and administrative.
Prior to joining Secure World Foundation, Natassa worked as a trainee for the European Commission, DG Enterprise & Industry, Unit Space, Research & Development, where she assisted The European Earth Observation Programme (GMES) in organizing the FP8 Space Research Hearing and preparing the FP7 high-level Space Conference in Budapest. Moreover, she facilitated communication strategies for the FP7 Space third call such as a series of brochures and an i-phone application. As an external consultant for Ecopolis Europa and Act2innovate, Natassa was responsible for different environmental and legislative issues all the while gaining outstanding management skills, which have helped serve her collaboration with the Chinese and Egyptian Municipal staff on environmental and security issues. Moreover, in her work as a former EU policy assistant in REGIOEUROPA, the representation office for Greek Local and Regional Authorities in Brussels,  she assisted the regional and local authorities in meeting the demands of a modern regional policy with a European dimension. During her time as a consultant, she made invaluable working relationships with many European organizations and DGs of the European Commission, think tanks, consultants, top researchers and experts as well as NGOs.
Natassa is actively involved with the Space Generation Advisory Council (SGAC) and is member of the Space Technologies for Disaster Management Project Group. Read Natassa Antoniou's publications now.
Education
Natassa attended the International Space University's (ISU) 2012 Space Studies Programme (SSP12) held in Florida, USA. She also studied Environmental Science at Aegean University, Department of Environment, in Greece. She received her Master's at the Wageningen University in the Netherlands where she double majored in Urban Environmental Management and Environmental Communication and Education, with an emphasis in environmental management systems and tools. She also holds a specialization as a Project Consultant and Community Advisor from the Universite Catholique de Louvain in Brussels, Belgium in collaboration with the Italian-Belgian Chamber of Commerce.